YirFans are a breed of their own.
on
February 14, 2011
at
3:45 pm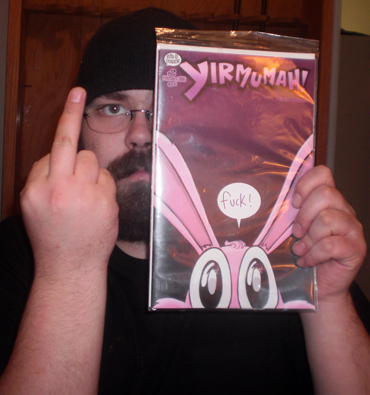 In response to the mail that went out to the OLD school Yirmumah fans announcing our return, I received the above from one classic fan, Beaker Bongload, in order to prove who was to gain access to our "FRIENDS OF THE LLAMA" group on Facebook (of Friends of Yirmumah if you want to search for it) – It wasn't necessary to share this photo, but I'm glad he did. This group is designed for hardcore fans we will call upon from time to time to help us do things… what things? If you have no desire to do things on behalf of us, please don't sign up. For those that do, I'm going to try to keep it fun.
GIVE US THE FINGER! (and or Goats)
Now I totally want any old school fans out there to take photos of themselves either flipping the mighty finger or throwing the double goat. That would make a swell gallery to look at, no?